Undergrad Research Opportunities
Working with undergraduates on research projects is one of the best parts about being a scientist, and the undergrads in my lab at USC (and before) have been terrific. More than anything else that I do, it makes me realize how outrageously fortunate that I am to be not just a Scientist, but a Professor/Scientist. It also reminds me of my own undergraduate experience, patiently watching damselfly larvae not move for hours on end, late at night, in Mark McPeek's lab. We always have undergrads working on a variety of projects here in the D-Lab. Because we straddle so many diverse areas of biology, undergrads who join our crew are exposed to research in a variety of different approaches.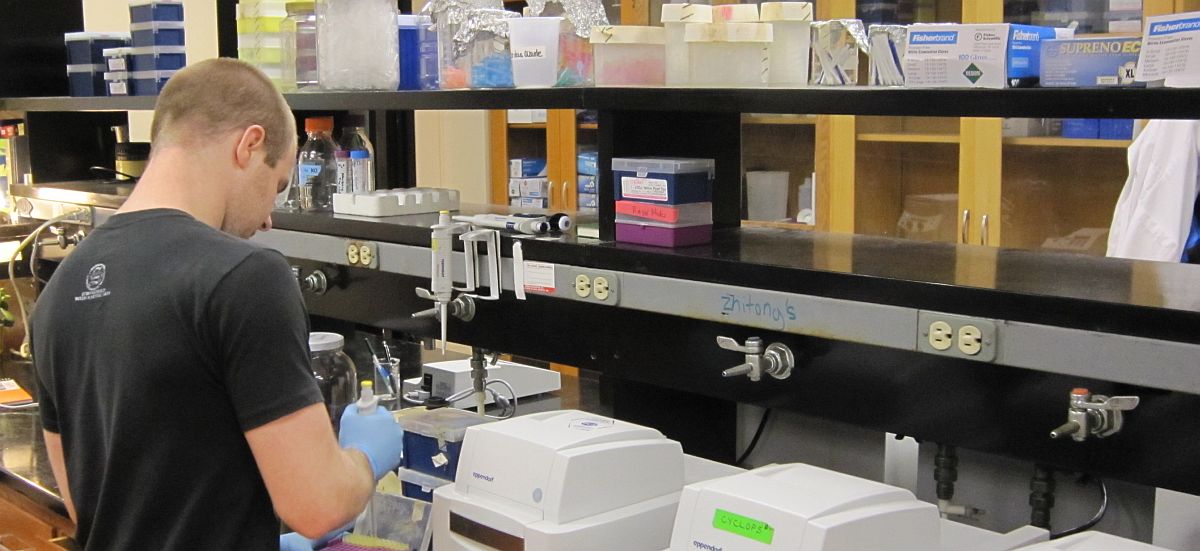 Although I'd like to accept pretty much every undergrad who expresses an interest in our research, that simply isn't practical. To provide excellent undergraduate research experiences, we have to limit the number of undergraduates who are members of my lab at any given time. If you are interested, it is essential that you approach me well in advance of when you would like to do a research project. So when should you do that? How should you do that? What do I look for in a prospective lab member? What kind of project can you do? What's it like to be a member of the D-Lab?
Generally, you should start talking to faculty about research experience as soon as you think you're ready. This definitely means checking out different faculty members' research areas (through websites, and wandering the halls of the science complex looking at the research posters on the walls) and contacting faculty in the semester before you want to begin. For our lab, the best way to make the initial contact is to schedule an appointment by email or by stopping in at the lab. In that initial contact, it's helpful if you can briefly explain what type of research experience you're looking for, include your GPA, and tell me when you want to do it.
From there, we can schedule an interview if we are in a position to add new undergraduates to the lab at the time you want. During the interview I will ask about why you want a research experience, what you hope to accomplish with it, why you think our lab might be a good place for you, what your research interests are, what plans you have for after you graduate, what kind of project you might want to do, and what Pandora stations you'd make us listen to when you're in the lab.
There are several factors that I consider when deciding whether to bring a particular student into our crew.
First, you need to be doing well in your classes. If you aren't, piling the time commitment necessary for a research project isn't going to make your grades any better. However, your grades don't need to be perfect – a GPA of 3.0 is fine, and if your GPA is slightly under that, we can examine your transcript more closely.
Second, you have to have a real interest in the work we do. If you aren't interested in the topic, you probably won't be sincerely involved in the research. That creates all sorts of difficulties, and in the end, you probably wouldn't like the letter of recommendation I would write for your next endeavor. Often, when I'm interviewing a prospective undergraduate, we discover that currently available projects don't match a student's interests. In those cases, I will try to steer students to faculty whose current activities fit better.
Third, your schedule matters. Even if you're doing well in your classes, if you have a packed academic schedule (>16 credits, or several labs), or have several other commitments (a job, voluntering at the clinic, playing a sport, student government, etc.), I'm going to suggest you wait until your schedule is more open. No one should ever try to "squeeze in" a research project into their schedule. And in our lab, it is very difficult to fit a research project into tightly defined timeslots. We work with live animals, and they do whatever they darn well please, regardless of your schedule. And if you're doing a molecular genetics project, it isn't any better. Sometimes you need to make a fresh buffer, wait for the autoclave, or re-do something because you made a mistake (yes, it happens). Or even re-do something because I made a mistake (that happens, too). No matter what mechanism has you in our lab for a research experience, you should expect to spend at least 10-15 hours per week in the lab.
Fourth, I consider where you are in your undergraduate program. I generally prefer to have students start in their junior or sophomore years, although I have sponsored freshmen and the occasional senior. You should come talk to me the semester before you think you would start. It is probably in your best interest to do this just before the advisement period for that semester, because by then I'll have a reasonable sense of what the lab will be doing that semester, but it will still be before most students start thinking about their next semester. If you want to apply for one of the funding programs, you need to talk to me well in advance (i.e., months) of the application deadlines.
Finally, I take into some consideration what else is going on in the lab. Sometimes, we can incorporate a new member into one project, but not another, and this may affect who is currently the best fit with the lab.
When undergrads start in the lab, there are a set of things they need to learn to do (and, yes, washing beakers is one of them) that are the common tasks associated with just about any project in the lab. These include feeding Daphnia, growing algae, preparing lakewater and fakewater, transfering Daphnia cultures, working with microscopes, and maintaining a lab notebook to our standards. Often, the first semester will be mainly learning techniques, and undergrads will work alongside someone who has been in the lab on a project that has already been defined. Although I will strongly guide undergrads in developing a project, by the second semester I want people to be working on a project that they had a hand in planning.
Projects in our lab come in three basic flavors: live Daphnia projects, genetic projects, and (rarely) field projects. In live projects, students typically examine the combined influence of environmental characteristics and genetic variation on a phenotype, probably related to aging, vision, or resource exploitation. In genetic projects, students typically work either with sequence variation among genetically divergent Daphnia or with gene expression variation among Daphnia exposed to different conditions. In field projects, students typically would be conducting some kind of field sampling at Congaree National Park, and making connections between field observations and phenotypes. Students who are part of the lab for more than one year may have the opportunity to try different kinds of projects. Sometimes, there are other kinds of projects students can do, such as ones with mathematical modeling, the music-bio interface, or science ethics.
Many students begin with BIOL 399 (Independent Research), which enables students to register for course credit but conduct a research project outside of the confines of a formal class. BIOL 399 involves a contract between the student and professor, and needs to be arranged well in advance. To be eligible, students must have a minimum GPA of 3.0. Biology majors can count a maximum of three credits toward their major requirements, and an additional three credits toward their elective credits. Students can register for any number of credits in a semester, but typically they register for 3 + 3 over two semesters, or 2 + 2 + 2 over three semesters. Somewhat bizarrely, the BIOL 399 does not normally "count" as an upper-level Biology lab. Exceptions are sometimes granted by petition.
Students in the SCHC will eventually have to do a senior thesis, and it makes sense for Biology majors to do a biological research thesis. I am happy to serve as the director for a senior honors thesis. However, the SCHC senior thesis is structured in a way that has limitations, and students are usually better off if they start on a research project well before registering for the senior thesis credits (for example, through BIOL 399). Formally, in spring of your junior year, honors students register for SCHC 390z, a 1-credit pass/fail course "to get you thinking about" your project. Ideally, students will have already begun some actual research by then, and not merely be "thinking about" it. During your senior fall, you register for SCHC 499, and in the spring you have to defend your research in a public seminar. Helpfully, the SCHC has grant funding available, and I think writing a grant proposal is one of the most important learning experiences for undergraduate researchers.
The Office of Undergraduate Research sponsors the competitive Magellan program, allowing students to apply for funding to conduct a research projects. Magellan grants can be for a summer research project, during which Magellan Scholars are in the lab full-time. The Magellan program also supports research projects during the academic year. Application deadlines are in October (for a spring semester project) and February (for summer or fall), but students must attend an application workshop before submitting an application. Generally, I will sponsor one application each summer, and potentially one application for the spring semester. To be competitive, I think it's best if students are already involved in a research project at the time they apply, so students usually begin in the lab through one of the other mechanisms.
Capstone
Students who are Capstone Scholars can apply for research funding through the Magellan Apprentice program in their first or second years at USC. This is a great way to get started, since it involves writing a proposal for the Office of Undergraduate Research.
Sometimes, one option for a student is to just volunteer in the lab on an informal basis. I generally avoid this, because past experience has shown that volunteer-based arrangements can be viewed too casually. It seems difficult for students to make a solid enough commitment for the experience to be substantively useful. Therefore, I usually think students should begin with a BIOL 399, even if it is only for two credits. However, a volunteer basis can be useful if the intent is to plan for a 399 contract, or develop a proposal for one of the funding programs. An informal volunteer basis can also be a way to continue working on a project while bridging the gap between two other mechanisms (e.g., 399 in the Fall and Magellan in the Summer).
Work-Study & Other Paid Lab Assistants
We almost always have a lab assistant through the work-study program. If you are approved for work-study through the financial aid office, this can be a great way to get your feet wet (and everything else wet, probably). However, work-study lab assistants are normally employed to do routine support work, rather than their own data-collecting, hypothesis-testing, paradigm-shifting research projects. Very, very rarely we are able to employ an undergrad on a paid basis in a more substantive research capacity, but this is normally reserved for individuals who have already been doing research in the lab through one of the other mechanims.
The Office of Undergraduate Research has information on some other programs that can provide support for research experiences. For example, the Magellan Mini-Grant is open to any student, and provides up to $1000 towards supplies for a research projects. Voyager grants provide financial support for students to attend scientific meetings where they can present the results of their research. SCAMP is a program for minorities, as defined by NSF. TRiO is a program for minorities and first-generation college students who plan to attend graduate school.